Leaderboards & Challenges
---
Make your gift go further! Participate in the giving challenges below and help earn bonus monies for your favorite college or unit. Check back throughout the day to find out who's won and who's in the lead.
Give Green Day Sponsor
---
Dr. David Moehring, ('60, Natural Science), is passionate about MSU and what the university has done for him. So much so, he has stepped up to be our Give Green Day sponsor, and challenges you to join him on November 28 to support MSU. To encourage others to participate, Dr. Moehring has committed $50,000 in challenge funds to be used in two ways:
For bonus monies in recognition of projects that hit their goals, and
To match gifts throughout the day during special giving challenges.
President Simon has also agreed to allocate an additional $50,000 to further leverage Dr. Moehring's generous gift. So, the more others give, the more challenge money will be awarded! Follow #GiveGreenDay for announcements and ways to make your gift go further.
"I'm so grateful for what this university has done for me. So join me and give green."
$50,000 Challenge Donor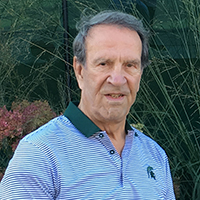 "I'm so grateful for what this university has done for me. So join me and give green."
$50,000 Challenge Donor
Project Leaders
---
College/Unit/Project
Raised
Gifts
Bonus Monies
Eli Broad College of Business


Business Pavilion

$81,671
127
$1,500
Veterinary Medicine


College of Veterinary Medicine Scholarship Fund

$18,366
46
$1,000
Athletics


Spartan Fund

$16,697
100
$1,000
Law


MSU Law Annual Fund

$14,935
26
$1,000
Music


Spartan Marching Band Jackets Sponsorship Fund

$13,635
151
$1,500
International Studies and Programs


International Programs Youth Empowerment Fund

$9,781
78
$1,750
James Madison


JMC Emergency Scholarship Fund

$8,768
63
$1,250
Agriculture and Natural Resources


Alumni Association Scholarship Fund

$7,180
23
$0
University Scholarships and Fellowships


Student Emergency Assistance Fund

$6,775
145
$1,000
Engineering


Thomas F. Wolff Undergraduate Student Activities Endowed Fund

$6,080
37
$1,000
Nursing


College of Nursing Student Emergency Fund

$6,048
84
$1,250
Communication Arts and Sciences


ComArtSci Student Field Experience Fund

$5,456
57
$1,000
Honors College


Honors College Impact

$5,155
27
$0
MSU Libraries


Swanson MSU Endowment for Library Student Employees

$4,670
55
$1,750
Entrepreneurship


MSU Innovation Center – MSU Student Commercial Kitchen Incubator Fund

$4,140
84
$1,000
Osteopathic Medicine


Institute of International Health Peru Mission Fund

$4,076
36
$1,000
Social Science


InnovateGov Fund

$4,030
38
$750
Residential College in the Arts and Humanities


RCAH Community Projects Fund

$3,583
37
$1,500
Agriculture and Natural Resources


Michigan 4-H Youth Programs

$3,530
58
$750
Wharton Center for Performing Arts


Seats 4 Kids for Sensory-Friendly Performances

$3,050
39
$1,000
Human Medicine


College of Human Medicine Student Scholarship Fund

$2,960
37
$250
Education


Fifth Year Teacher Preparation Student Support Fund

$2,895
24
$1,250
Natural Science


College of Natural Science Study Abroad Program

$2,850
23
$1,000
Eli and Edythe Broad Art Museum


MSU Broad Summer Camp Scholarship Fund

$2,615
25
$0
Arts and Letters


Citizen Scholars Program

$2,510
31
$500
MSU Museum


MSU Museum Summer Institute

$2,000
26
$250
WKAR


WKAR Endowment for Student Experiential Learning

$1,855
32
$0
Lyman Briggs


Lyman Briggs Learning Assistants Endowment Fund

$1,170
12
$0
---
Challenges
---
Earn an extra $250 for what you love. Take part in one or all of the giving challenges below. Winners for each challenge will earn an extra $250 for the project or college they choose.
Time (EST)
Challenge
Winners
12:00 a.m.
Two winners randomly selected from all gifts in the next hour.

Olufemi Vaughan




International Programs Youth Empowerment Fund

Tom Benner




Greater St. Louis MSU Alumni Club Spartan Scholarship Challenge

1:00 a.m.
Two winners randomly selected from all gifts in the next hour.

Dr. Steven Hanson




International Programs Youth Empowerment Fund

Eleanor Carpenter




Residential College in the Arts and Humanities Community Projects Fund

2:00 a.m.
Two winners randomly selected from all gifts in the next hour.

Edward Pniewski




Residential College in the Arts and Humanities Community Projects Fund

Thomas Duncan




Colorado Spartan Scholarship Challenge

3:00 a.m.
Two winners randomly selected from all gifts in the next hour.

John Nowakowski




Residential College in the Arts and Humanities Center for Poetry

Michael Gaitan-Flores




College of Human Medicine Student Scholarship Fund

4:00 a.m.
Two winners randomly selected from all gifts in the next hour.

Michael Gaitan-Flores




JMC Emergency Scholarship Fund

Michael Sundermann




Spartan Marching Band Jackets Sponsorship Fund

5:00 a.m.
Two winners randomly selected from all gifts in the next hour.

Anonymous




Greater Atlanta Alumni Club Endowed Scholarship Fund

Karen Pasternak




Army ROTC

6:00 a.m.
Two winners randomly selected from all gifts in the next hour.

Chinwe Effiong




International Programs Youth Empowerment Fund

Mary Mertz-Smith




College of Arts and Letters Citizen Scholars Program

7:00 a.m.
Two winners randomly selected from all gifts in the next hour.

Anonymous




InnovateGov Fund

Paul Riemer




Business Pavilion

8:00 a.m.
Two winners randomly selected from all gifts in the next hour.

Jo Adams




Spartan Marching Band Jackets Sponsorship Fund

Lisa Conrad




InnovateGov Fund

9:00 a.m.
Two winners randomly selected from all gifts in the next hour.

Mary Skeen-Tinlin




Support Our Spartans (SOS) Student Emergency Needs Fund

Shannon Keller




Kim L. and Judith A. Swanson Michigan State University Endowment for Library Student Employees

10:00 a.m.
Two winners randomly selected from all gifts in the next hour.

Audrey Cross




MSU Black Alumni Association Endowed Scholarship Fund

Cheryl Noll




College of Nursing Student Emergency Fund

11:00 a.m.
Two winners randomly selected from all gifts in the next hour.

Colleen Lyon




Kim L. and Judith A. Swanson Michigan State University Endowment for Library Student Employees

Rena Flovin




College of Natural Science

12:00 p.m.
Two winners randomly selected from all gifts in the next hour.

Jessica Leacher




Rachel P. Kahan Memorial Scholarship for the MSU/Washington D.C. Internship Program

Veronica O'Connor




Teacher Preparation Student Support Fund

1:00 p.m.
Two winners randomly selected from all gifts in the next hour.

Elizabeth Wheeler




Rachel P. Kahan Memorial Scholarship for the MSU/Washington D.C. Internship Program

Mary Schalk




4-H Youth Programs

2:00 p.m.
Two winners randomly selected from all gifts in the next hour.

Christopher Lathwell




Seattle MSU Alumni Club Endowed Scholarship Fund

Karen Kelly




InnovateGov Fund

3:00 p.m.
Two winners randomly selected from all gifts in the next hour.

Carole Lange




College of Arts and Letters Citizen Scholars Program

Douglas Klegon




Justin Morrill Legacy Scholarship Fund

4:00 p.m.
Two winners randomly selected from all gifts in the next hour.

Paul Elam




MSU Museum Educational Programs Fund

Suzanne Alchin




Department of Kinesiology

5:00 p.m.
Two winners randomly selected from all gifts in the next hour.

Elmira Nixon




College of Nursing General Fund

Sue Granger




4-H Youth Programs

6:00 p.m.
Two winners randomly selected from all gifts in the next hour.

Anonymous




MSU Museum Summer Institute

Mary Boulanger




Kim L. and Judith A. Swanson Michigan State University Endowment for Library Student Employees

7:00 p.m.
Two winners randomly selected from all gifts in the next hour.

Anonymous




Lyman Briggs College Scholarship Fund

Walter Kolmodin




IPF Planning, Design and Construction Fund

8:00 p.m.
Two winners randomly selected from all gifts in the next hour.

Cynthia Currie




Supply Chain Management

Krisanne Krieg




MSU Alumni Club of Jackson Memorial Scholarship Endowment

9:00 p.m.
Two winners randomly selected from all gifts in the next hour.

Curtis Lease




Business Pavilion

Otto Brannum




College of Education

10:00 p.m.
Two winners randomly selected from all gifts in the next hour.

David Poulson




4-H Youth Programs

Laura Wojcik




Honors College

11:00 p.m.
Two winners randomly selected from all gifts in the next hour.

Lindsay DeVries




San Antonio Spartans Expendable Scholarship Fund

Shanna Anderson




Michael G. Schechter Endowed Scholarship Fund for James Madison College