International Programs Youth Empowerment Fund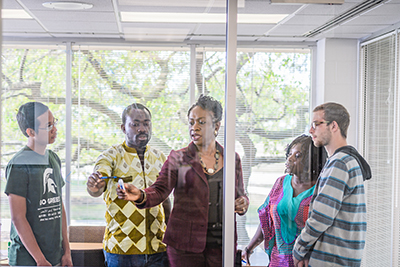 Nearly a quarter of the world's population are youth between the ages of 10 and 24, and 87 percent of these young people live in less developed countries. One of the greatest challenges facing these young people is unemployment, with six out of 10 of the approximately 120 million young people joining the labor market each year unable to find jobs. The enormity of the problem cannot be overstated.
Efforts to support youth education must dramatically increase and evolve to keep up with this rapid population growth. The Youth Empowerment Program (YEP) will advance MSU's legacy of international engagement and create innovative solutions that will improve the livelihoods of millions of global youth.
Give to MSU's Youth Empowerment Program (YEP) and Help Inspire the Next Generation of Entrepreneurs
Michigan State University's Youth Empowerment Program is working to inspire the next generation of social entrepreneurs and change-makers. Your investment will support faculty and students, along with local and international partners engaged in youth education, entrepreneurship, and leadership initiatives in their efforts to understand, educate, and create employment opportunities for youth. Funds raised will help YEP provide micro-grants to youth entrepreneurs, develop training tools and resources, and facilitate research on youth empowerment.
Meet Our 2017 Champion for Global Youth and the International Programs Youth Empowerment Fund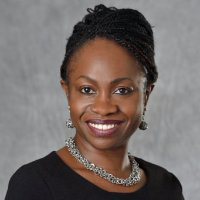 Dr. Chinwe Effiong is the Assistant Dean for the MasterCard Foundation Scholars and Youth Empowerment Programs at Michigan State University. She provides leadership and management oversight to the MasterCard Foundation Scholars Program, while leveraging MSU expertise to identify and scale new opportunities for global youth education, entrepreneurship, and empowerment initiatives.
Dr. Effiong has made significant contributions to the global mission to create jobs and entrepreneurship opportunities for youth, especially young women, residing in the world's most marginalized communities. Prior to MSU, she served as CEO of Junior Achievement (JA) in Africa, working closely with government, civil society groups, and private sector stakeholders to raise awareness and promote programs enabling African youth to improve their livelihoods.
Dr. Effiong received a Bachelor's degree in English and Literary Studies from the University of Calabar, Nigeria; and a Master's and Doctorate degree in Political Science and International Relations, respectively, from the University of Delaware.

---
Challenge Money Awarded
Goal Reached


$1,000

Chinwe Effiong


$250

Dr. Steven Hanson


$250

Olufemi Vaughan


$250
Donor Honor Roll
Anonymous


$1.00

Chinwe Effiong


$510.00

Oluwagbemiga Kuye


$250.00

Shelagh Ferguson-Miller


$25.00

Keith Lui


$100.00

Eric Crawford


$100.00

Pamela Roy


$200.00

Kelley Wall


$50.00

Richard Walker


$50.00

Katerina Levantis


$5.00

Leapetswe Malete


$40.00

Bamidele Apapa


$250.00

Gail Ifshin


$100.00

Ayo Anibaba


$50.00

Jeremy Peruski


$50.00

Mobolaji Balogun


$1,000.00

Robert Groves


$100.00

Olajuwon Olaleye


$50.00

Ann Schneider


$50.00

Susan Petrisin


$20.00

Maureen Handrahan


$25.00

Andrew and Barbara Roberts


$1,354.75

Elizabeth Jean Wandschneider


$25.00

Elexis Grimes


$5.00

Stella Cash


$50.00

Lily Sun


$1.00

Sanjun Wu


$10.00

Louanges Ndayishimiye


$1.00

Erica Olivarez


$5.00

Amari Glaspie


$5.00

Christian Velkovich


$1.00

Brendon Guenther


$10.00

Fredrick Sudler


$10.00

John Bonnell


$25.00

Marta Mittermaier


$100.00

Faith Snyder


$5.00

Grace Garno


$5.00

Emmanuel Chima


$5.00

Ana Belza


$1.00

Metin Ozsarfati


$20.00

Susan Loomis


$1.00

Michael Molesky


$10.00

Stephanie Nawyn


$25.00

Patricia Croom


$100.00

Skyin Yin


$50.00

Rachel Warner


$100.00

Robert Glew


$50.00

Anonymous


$5.00

Xinyu Wu


$50.00

Anonymous


$5.00

Melanie Jacobs


$50.00

Momodou Bah


$5.00

Ashley Green


$50.00

Laura Wise


$50.00

Michael Delbene


$250.00

Inge Steglitz


$50.00

Julie Hagstrom


$20.00

Damaris Choti


$50.00

Gary Wilson


$50.00

Alexandria Cedergren


$45.00

Christopher Daniel


$500.00

Xiaoyu Yin


$50.00

Michelle Jenkins


$30.00

Mary Hennessey


$100.00

Gregory Frens


$75.00

Silva Umukoro


$200.00

Mary Firdawsi


$50.00

Alexandra Jarvis


$100.00

olatunji kamson


$20.00

Chinwe Effiong


$1,000.00

Adesoji Adelaja


$1,000.00

Ben Adelaja


$75.00

Michael Cylkowski


$100.00

Stephen Childress


$250.00

Olufemi Vaughan


$200.00

Adesoji Adelaja


$100.00

Daniel Spadafore


$200.00

Angha Sirpurkar-Childress


$50.00