MSU Innovation Center - MSU Student Commercial Kitchen Incubator Fund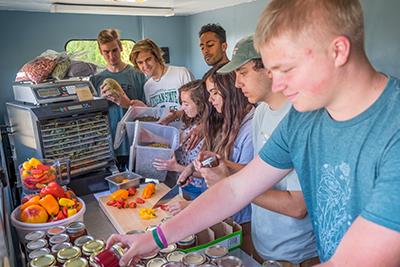 MSU Entrepreneurship has recently launched a commercial kitchen incubator near the MSU Student Organic Farm. However, some of the appliances have broken down or are in need of upgrading. As this is a non-profit student-led facility, it doesn't have access to capital to make the needed improvements. With access to improved appliances, new student startups, such as Land Grant Goods, will be able to increase their capacity for production and packaging.
Give to the MSU Innovation Center and help buy new appliances for the MSU Student Commercial Kitchen Incubator.
Your support will help raise the necessary funds to purchase critically important equipment for the Commercial Kitchen Incubator, and in turn, will help MSU students create and sell local organic food products.

---
Donor Honor Roll
Steven Szura


$20.00

Joseph Wakar


$1.00

Edward Pniewski


$100.00

Mark Hooper


$100.00

Anonymous


$200.00

Chad Pastor


$25.00

Abby Branstetter


$25.00

Katharine Richards


$50.00

Sarah Sheafor


$200.00

Rosanne Tersigni


$50.00

Haylie May


$1.00

Andrew McColm


$25.00

Joseph Thorp


$50.00

Haley Ferer


$5.00

Mary Kay Hauck


$25.00

Thomas Zuhl


$500.00

Zachary Hays


$20.00

Jean Zwier


$10.00

Dillion Carrington


$5.00

Amber Shinn


$1.00

Brian Copple


$25.00

Geri Musial


$100.00

Bradley Gakenheimer


$25.00

Bailey Carter


$5.00

Oshan Weerasinghe


$20.00

Tina Ramos


$20.00

Janet Foreman


$20.00

Bradley Shaw


$100.00

Karen Cronk


$25.00

Ryan Devlin


$100.00

Michelle Underwood


$25.00

Anne DiSante


$50.00

Richard Chylla


$30.00

Alex Craig


$20.00

Thomas Herlache


$25.00

Cindy Hales


$100.00

David Temple


$25.00

Ken Szymusiak


$15.00

Jeffrey Smith


$100.00

Kaitlyn Setter


$10.00

Bailey Paxton


$5.00

Christopher VanWyck


$100.00

Pamela Willis


$25.00

Anne Brown


$7.00

Charles Hasemann


$200.00

Nana Krah


$5.00

Susan Hindin


$50.00

Bethany Kogut


$5.00

John Hill


$50.00

Lori Fischer


$25.00

Sean Hagan


$1.00

Neil Kane


$25.00

Erin McBrien


$100.00

Angela Palek


$100.00

Jeffrey Myers


$35.00

Jaclyn Barta


$3.00

Desiree Melfi Bozzo


$25.00

Andrew Dickow


$250.00

Drew Frommelt


$5.00

Kate Olender


$50.00

Ty Gross


$2.00

April Clobes


$200.00

Max Offerman


$2.00

Jon Hoadley


$10.00

Taylor Burton


$1.00

Jacob Standerfer


$5.00

Braedon Halle


$1.00

Zach Grover


$5.00

Alez Marx


$5.00

Jeffrey Pompliano


$25.00

Christopher Sell


$25.00

Gabriela Allum


$10.00

Amber Shinn


$30.00

Jonathan Means


$100.00

Paul Jaques


$25.00

Marta Sinclair


$20.00

Kathleen Chalker


$5.00

Danielle DeVoss


$50.00

Thomas Lyons


$100.00

Laurie Thorp


$50.00

Heather Shea


$50.00

Stephanie Motschenbacher


$50.00

Jessica Klinger


$25.00

Aaryn Richard


$25.00