Residential College in the Arts and Humanities Civic Engagement Fund
Lansing's Refugee Development Center—a longtime RCAH community partner—has a boys' soccer team, but it has not had the funding or support to engage girls in soccer. The boys' team has been wildly popular and extremely competitive around Michigan, and the girls of the RDC are ready and motivated to get involved.
Support equal opportunity, fairness, and access for all: Help girls from the Lansing Refugee Development Center engage in soccer like the RDC boys.
Your investment will help refugee girls who have moved to the Greater Lansing area from around the world engage in soccer programs with the RDC. You will help these girls gain the confidence and collaborative skills that come from team sports, and help RCAH students as they record this initiative in images, video, and written words.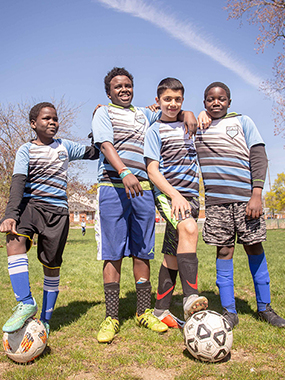 Pictured: Girls of the Lansing Refugee Development Center who would be supported in their desire to engage in soccer, and some of the RDC boys who already have a team.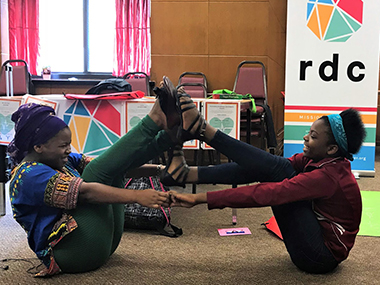 ---
Donor Honor Roll
$ Gift Matched $$ Gift Matched x2 $$$ Gift Matched x3
Carly Nesbitt




$25.00

Traci Phillips




$5.00

Anna Orsini




$50.00

Corinne Jankowski




$125.00

Anonymous




$10.00

Emily Fijol




$50.00

Linnea Jimison




$15.00

Andrew Faber




$20.00

Guillermo Delgado




$20.00

John Nowakowski




$15.00

Douglas Klegon




$100.00

David Sheridan




$25.00

Preethi Saravanan




$20.00

Shayla Croteau




$20.00

Anita Skeen




$100.00

Molly Cryderman-Weber




$20.00

Christine Worland




$100.00

Charles Roberts




$100.00

Marilyn Hecht




$20.00

Sadie Shattuck




$20.00

Daniel Finegan




$25.00

Bonnie Stefko-Brown




$50.00

Aileen Dwyer




$10.00

Margarette Cafagna




$100.00

Kristin Jimison




$30.00

Ashton Root




$10.00

Lynn Scott




$200.00

Christoph Waldburger




$100.00

Marcus Fields




$65.00

Jon Deveaux




$75.00

Brian Teppen




$500.00

Thomas Nowak




$10.00

Dakota Riehl




$15.00

Hannah Featherman




$25.00

Leslie Martin




$200.00

Leslie Welch




$50.00

Christina Triezenberg




$50.00

Jennfer Catron




$10.00

Justin Bricarell




$25.00

Niki Rudolph




$25.00

Pamela Newsted




$50.00

Morris Arvoy




$50.00

Kathryn McGormley




$20.00

Laurie Hollinger




$25.00

Anonymous




$500.00

Trajan Dubiel




$10.00

Emily Topham




$20.00

Shannon Croteau




$100.00

Kristin Phillips




$20.00